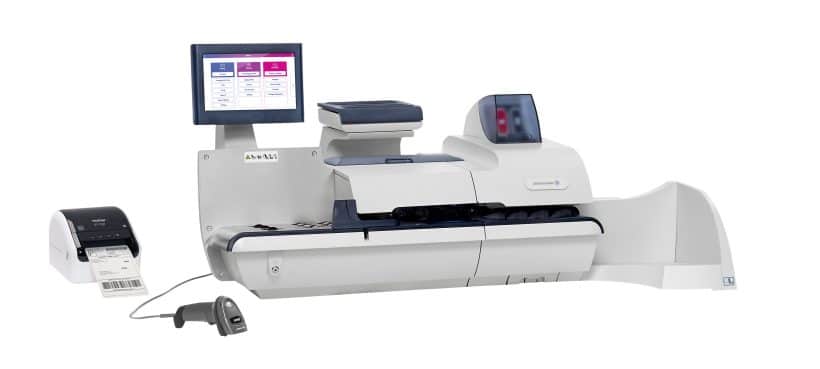 With the SendPro P-Series mailing and shipping systems, mid-to high-volume mailers and shippers can find a system to fit their business needs.
The SendPro P Series mailing and shipping systems simplify processes by integrating mailing, shipping and receiving into a single system. With these versatile integrations, the P Series provides a simpler, more streamlined way to send letter mail as well as ship packages using your USPS®, FedEx® and UPS® business accounts. With the receiving application, you can accurately log all of your incoming packages' information so that you have a history of every package that has been delivered to your office. Making all of your sending processes more accurate and efficient.
SendPro P1000 – Designed to save you time and money, the P1000 is easy-to-use so everyone in your office can operate it. For letter mail, the P1000 can seal and print up to 180 letters per minute and handles envelopes up to 5/8″ thick.
SendPro P2000 – Make sending more efficient with the SendPro P2000. Fully automatic feeding of like-sized mail at up to 180 letters per minute and envelopes at up to 5/8″ thick. Weigh-on-the-Way with shape-based rating allows you to accurately apply postagefor up to 110 letters per minute.
SendPro P3000 – For high-ouput mail operations looking to grow their business, the SendPro P3000 is the most powerful solution on the market. With automatic feeding and weigh-on-the-Way (r), the P3000 systems seals and meters mail up to 3/4″ thick in one continuous operation at up to 205 letters per minute, thus eliminating the need to sort mixed size mail. And, the SendPro P3000's fully automatic feeding quickly processes like-sized and weight mail at speeds of up to 310 letters per minute.
"Kelley Connect looked at our situation and said we could do better and save money. Now we can process mail every day without fault, the control is back in our hands, it doesn't cost any additional time, and there's a big line item off the expense sheet."
Eric Seitz,
Purchasing & Supply Technician,
Central Services, Missoula County
Free consultation? Quick question?
Either way, we're happy to help!