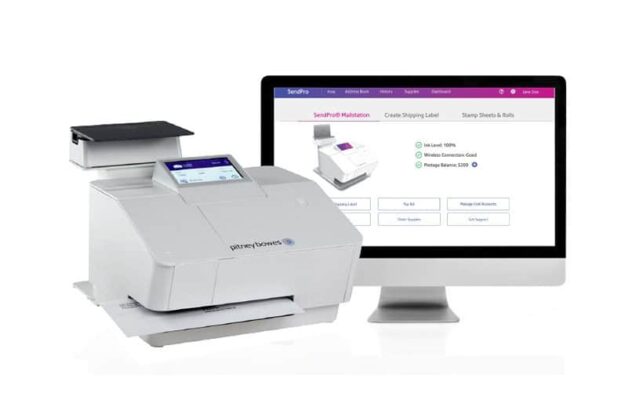 Designed to simplify mailing.
The easy-to-use, digitally-connected sending device is designed to simplify mailing USPS® First Class® letters, large envelopes, and postcards. Plus, get included access to SendPro Online to print Priority Mail® shipping labels directly from your computer. Includes:
USPS mailing and shipping discounts, Large, bright color touchscreen display, 5lb integrated scale, Comes with SendPro Online for shipping, Full-time internet connection required.
Easy – Use the large, full-color touchscreen to select postage, add extra services, check your balance, and refill postage.
Compact – Weigh mail up to 5lbs. and print USPS postage all from a small device that fits into any office environment.
Digitally Connected – Get automatic rate change updates and postage savings- 4¢ on every letter, and up to 40% on USPS® Priority Mail shipments.**
** 4¢ savings as of 1/24/2021. 40% savings is maximum savings on packages weighing 10 lbs being shipped to Zone 4 as of 1/24/2021.
"Kelley Connect looked at our situation and said we could do better and save money. Now we can process mail every day without fault, the control is back in our hands, it doesn't cost any additional time, and there's a big line item off the expense sheet."
Eric Seitz,
Purchasing & Supply Technician,
Central Services, Missoula County
Free consultation? Quick question?
Either way, we're happy to help!