SendPro® Enterprise
An online postage and shipping solution for every business. SendPro Enterprise has businesses both small and large uniquely covered.
Talk to an Expert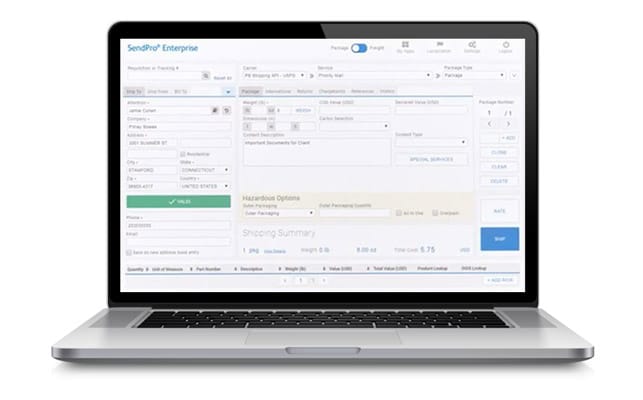 Designed with big businesses and larger organizations in mind, SendPro® Enterprise: The Multi-Carrier Shipping Software.
As a business, your enterprise shipping operations can get pretty complex.
Between multiple departments in several locations, employees who work remotely and multiple warehouses, there's a lot to consider.
SendPro®Enterprise helps streamline your shipping operations and create a tailored process for your organization.
User-friendly interface will achieve all of your shipping needs and adapt as you grow.
Take simple and complex shipping operations to the next level by refining cost management, efficiency and compliance processes.
Discover savings opportunities and create operational efficiencies across a vast number of users and locations.
A shipping software that keeps your organization secure – With SendPro Enterprise, employees will be able to process, create and track shipments and create reports if they're working at the office, from home, from a client's office or abroad during a business trip.
You'll be able to add or remove users with ease and track spending and employee activity.
Intelligent shipping solution – designed to help businesses thrive.
Simple – Centralized view of all sending activity across multiple carriers and users. You'll be able to compare shipping rates from different carriers in a single view and allow employees to access SendPro Enterprise remotely and securely.
Cost Effective – Track shipping expenses for each department and use the consolidated suite to choose the best carrier option for every package your company sends. Robust accounting feature applies shipping costs to client or department account.
Multi-Carrier Shipping, Simplified – What is multi-carrier shipping software, and how can it help my business? Multi-carrier shipping software allows you to find the best shipping mode and rate without sticking to a single courier. The secret to a successful shipping strategy is to keep costs down and not overspend on rush shipping. To achieve this, an organization must be carrier-diversified and consider the best shipping option available. This is why a multi-carrier shipping software like SendPro® Enterprise is an absolute must.
Increased cost savings – On average, 22% of a company's shipments incur address correction fees. -Our multi-carrier software validates address information before a parcel or package leaves the office. – The average shipping cost reduction with multi-carrier shipping software: ranges between 2-7%.
Increased efficiency within your organization – Save time when comparing rates across carriers. -Track shipments from different carriers in one suite. -Consolidate all your shipping data to make reporting a breeze. -Focus your energy on other things by automating savings.
Flexibility to customers – Customers can choose shipping terms that best suit their needs. -Eliminate express shipping fees for non-urgent orders. -Provide shipment updates to customers at every stage. See how your company can build its own unique multi-carrier shipping strategy.
Agile – Find the right carrier for international, local, and regional deliveries. You can even find freight carriers for every delivery job. Compare shipping rates quickly with one interface and get access to special savings.
Connected – Free your IT department from unnecessary costs and software management. With both standard and private cloud solutions, you'll be able to run your organization efficiently while keeping teams in contact.
Free consultation? Quick question?
Either way, we're happy to help!
"Kelley Connect has done a great job supporting my business. From technology recommendations to local service and support, I can rely on them!"
Jeremy Moritz, Executive Director
Eugene Builders Exchange
"As a full-service print shop, up-time is critical to our business. The Kelley service team is top-notch, going above and beyond to keep our equipment running and customers happy. Plus, we really appreciate Kelley's consultative &, transparent selling style. Their recommendations have helped us expand our wide format business, supporting more customer applications."
Erica Campbell CL Printing & Copy Center
Redmond, OR
"Kelley Connect changed our lives! We needed a machine to keep up with our busy commercial construction business and Kelley's equipment recommendations were spot-on. Plus, they showed me so many tips and tricks to get the most out of the HP Pagewide XL printer. The team keeps us up and running with an awesome service team and next-day media delivery so our business doesn't skip a beat." "My advice for anyone in the wide format market…. upgrade now! You won't regret the speed and capability. It seriously is a game-changer."
Mel Donner, Sr. Project Engineer
Joseph Hughes Construction, Portland, OR
"Kelley Connect has done a great job supporting my business. From technology recommendations to local service and support, I can rely on them!"
Jeremy Moritz, Executive Director, Eugene Builders Exchange