Relay® Low to Mid Volume Folder Inserters
Spend less time stuffing envelopes and get back to what's really important with the reliable and simple to use Relay folder inserters.
Talk to an Expert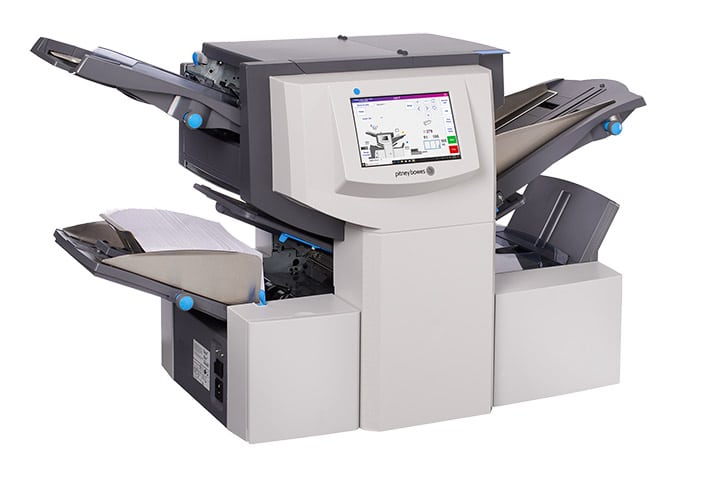 Mail is still an important way to communicate with customers… but, don't spend more time than you need handling paper and envelopes.
The Relay folder inserters make it simple to process mail faster and more accurately than doing it by hand, so you can focus on more important tasks. You save valuable time and money, while gaining the peace of mind that your communications are assembled accurately and mailed on time.
Simplicity – Automating your mail shouldn't mean complicating it.  Relay inserters make it easy with onscreen icons and text so setting up, selecting and processing jobs is easy enough for any employee.
Accuracy –  Eliminate manual mistakes associated with assembling your mail. Whether you're sending marketing offers, notices, or bills, Relay uses the latest technology to ensure customers receive the correct communication.
Productivity – Reach your customers on time by finishing your mailings faster. Automating mundane tasks, like folding and inserting mail, frees your staff to focus on high value tasks rather than folding paper and stuffing envelopes.
Versatility – The Relay folder-inserters gives you flexibility to do more with your mail. Handle multiple fold types, page sizes and outer envelope sizes. And, easily add marketing messages in each envelope to make the most of each communication.
Relay 1000
Self-installable, compact and easy-to-use, making it a smart addition to any office environment. The Relay 1000 is a simple solution to eliminate the need to fold and insert your mail by hand. Fold, insert, and seal up to 900 envelopes per hour. It's a convenient way to automate your everyday mailings like invoices, checks, newsletters, or directmail pieces with ease.
Relay 2500 Hero
The simple way to fold, insert, and seal up to 10,000 envelopes per month. The Relay 2500 finishes mail quickly with speeds of up to 2,500 envelopes per hour. Its 2D barcode scanning feature also eliminates the need to sort variable page documents by hand. You get a tabletop inserter with a small footprint for big results in productivity.
Relay 3500 Hero
Reliability and productivity in an easy-to-use folding and inserting solution. The Relay 3500 can fold, insert, and seal 3,000 envelopes per hour. It uses 2D barcodescanning technology yo automatically handle variable page mail and ensure your documents make it into the envelope accurately.


Relay 4500 Hero
Fast and accurate folding and inserting with a simple user experience. The Relay 4500 can assemble up to 3,500 envelopes per hour, so you can easily meet mailing deadlines. It also offers 2D barcode scanning technology to automatically fold, insert, and seal your variable page mail. Its large touchscreen makes it easy to set up and process jobs quickly.
Free consultation? Quick question?
Either way, we're happy to help!
"Kelley Connect has done a great job supporting my business. From technology recommendations to local service and support, I can rely on them!"
Jeremy Moritz, Executive Director
Eugene Builders Exchange
"As a full-service print shop, up-time is critical to our business. The Kelley service team is top-notch, going above and beyond to keep our equipment running and customers happy. Plus, we really appreciate Kelley's consultative &, transparent selling style. Their recommendations have helped us expand our wide format business, supporting more customer applications."
Erica Campbell CL Printing & Copy Center
Redmond, OR
"Kelley Connect changed our lives! We needed a machine to keep up with our busy commercial construction business and Kelley's equipment recommendations were spot-on. Plus, they showed me so many tips and tricks to get the most out of the HP Pagewide XL printer. The team keeps us up and running with an awesome service team and next-day media delivery so our business doesn't skip a beat." "My advice for anyone in the wide format market…. upgrade now! You won't regret the speed and capability. It seriously is a game-changer."
Mel Donner, Sr. Project Engineer
Joseph Hughes Construction, Portland, OR
"Kelley Connect has done a great job supporting my business. From technology recommendations to local service and support, I can rely on them!"
Jeremy Moritz, Executive Director, Eugene Builders Exchange