OfficeRight™ DF100 Desktop Letter Folder
The simple way to increase productivity and accuracy.
Talk to an Expert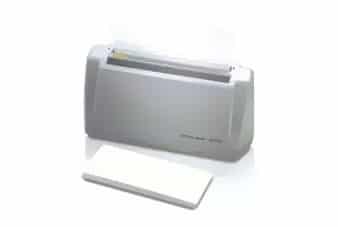 Fast and efficient, this letter folder is ready to help with all your folding tasks.
Stapled or unstapled, it doesn't matter. It produces crisp folds every single time.
Save time with the OfficeRight™ DF100 letter folder from Pitney Bowes. No more manual folding – just guide your letters and documents into the feeder and they come out folded perfectly and crisply every time! Stapled unstapled – it doesn't matter.
This fast efficient and sturdy machine is up to the task.
Perfect crisp folds every time
Folds letters and documents instantly
Compact desktop size
Never requires adjusting
Switches on and off automatically
Handles stapled and unstapled documents
Free consultation? Quick question?
Either way, we're happy to help!
"Kelley Connect has done a great job supporting my business. From technology recommendations to local service and support, I can rely on them!"
Jeremy Moritz, Executive Director
Eugene Builders Exchange
"As a full-service print shop, up-time is critical to our business. The Kelley service team is top-notch, going above and beyond to keep our equipment running and customers happy. Plus, we really appreciate Kelley's consultative &, transparent selling style. Their recommendations have helped us expand our wide format business, supporting more customer applications."
Erica Campbell CL Printing & Copy Center
Redmond, OR
"Kelley Connect changed our lives! We needed a machine to keep up with our busy commercial construction business and Kelley's equipment recommendations were spot-on. Plus, they showed me so many tips and tricks to get the most out of the HP Pagewide XL printer. The team keeps us up and running with an awesome service team and next-day media delivery so our business doesn't skip a beat." "My advice for anyone in the wide format market…. upgrade now! You won't regret the speed and capability. It seriously is a game-changer."
Mel Donner, Sr. Project Engineer
Joseph Hughes Construction, Portland, OR
"Kelley Connect has done a great job supporting my business. From technology recommendations to local service and support, I can rely on them!"
Jeremy Moritz, Executive Director, Eugene Builders Exchange