XpertJet 1641SR Pro
The MUTOH XpertJet 1641SR Pro delivers superior print quality and outstanding speeds at an affordable price.
Talk to an Expert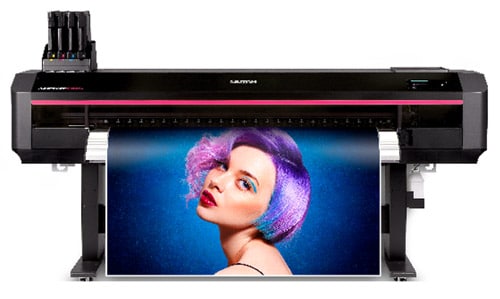 Respond immediately with the fastest large-format printer[1] and easily operate from front and back with the market's largest 15-inch touchscreen.[6]
VerteLith RIP optimizes all of the capabilities the XPJ-1641SR Pro has to offer and produces the best-possible gradients, skin tones and vivid colors.
This printer features MUTOH's new AccuFine Print Head, which achieves best-in-class dot placement accuracy and an increased nozzle row length for 35% faster print speeds.
The XPJ-1641SR Pro is paired with MUTOH's GREENGUARD Gold certified MS41 Eco-Solvent ink, suitable for use in sensitive environments such as hospitals, child care facilities and more, all while providing users a larger color gamut, outstanding durability, and improved dot gain.
MUTOH's genuine VerteLith RIP software bundled with FlexiDESIGNER MUTOH Edition 21 optimizes the XPJ-1641SR Pro through these key features:
Auto-population of named Pantone coated/uncoated spot colors.
MUTOH Clear Tone half tone technology.
MUTOH CMYK wide color gamut ICC profile.
Automated layout processing and printing.
Soft proof.
"What-you-see-is-what-you-get" RIP preview.
FlexiDESIGNER MUTOH Edition 21.
Tab customization.
Color management function.
Finishing bleed processing function.
Printing log function.
XPJ-1641SR Pro printer features include:
New extra-long piezo AccuFine print head increases productivity and improves the accuracy of dot placement by 20% over the previous print head.
i-screen technology reduces banding.
DropMaster2 automatically calibrates bi-directional alignments, saving time and reducing adjustment variations.
Nozzle Area Select uses blocks of active nozzles to temporarily print if clogged nozzles fail to recover.
Feed Master sensor allows for automatic feed adjustments.
Media Tracker prints a barcode prior to removing media and when media is loaded again, recognizes the amount remaining.
"Kelley Connect looked at our situation and said we could do better and save money. Now we can process mail every day without fault, the control is back in our hands, it doesn't cost any additional time, and there's a big line item off the expense sheet."
Eric Seitz,
Purchasing & Supply Technician,
Central Services, Missoula County
Free consultation? Quick question?
Either way, we're happy to help!