Mutoh ValueJet 628
Designed for small-lot on-demand production, the VJ-628 is suited for a wide variety of outdoor and indoor prints.
Talk to an Expert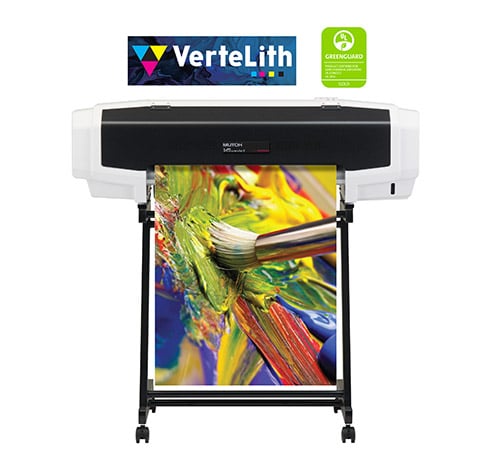 The ValueJet 628 24" Eco-Solvent Printer from MUTOH is the perfect size and price to fit easily into any size print shop.
Powered by MUTOH's new genuine VerteLith™ RIP Software, bundled with FlexiDESIGNER MUTOH Edition 21
VerteLith RIP optimizes all of the capabilities the VJ-628 has to offer and produces the best-possible gradients, skin tones and vivid colors.
The VJ-628 features an automatic sheet-off function and CMYKx2 or CMYK Lc Lm ink set, designed to increase user-friendly operation and maintenance while continuing to offer high production, high-quality output.
The VJ-628 is paired with MUTOH's MS31 Eco-Solvent ink, which offers users a larger color gamut, outstanding durability, and improved dot gain at speeds up to 433 sqft/hr.
MUTOH's genuine VerteLith RIP software bundled with FlexiDESIGNER MUTOH Edition 21 optimizes the ValueJet 628 24″ printer through these key features:
Auto-population of named Pantone colors
MUTOH Clear Tone half tone technology
Optimized performance for more vivid colors
Automated layout processing and printing
Simulate printed colors accurately with "soft proof"
"What-you-see-is-what-you-get" RIP preview
Tab customization
Color management function
Finishing bleed processing function
Printing log function
VJ-628 printer features include:
Intelligent Interweave i² print technology reduces banding by arranging printed dots in a way that takes into account how they look, creating smoother print images.
MUTOH Status Monitor checks the printer's operation status in real time.
Automatic sheet-off function.
"Kelley Connect looked at our situation and said we could do better and save money. Now we can process mail every day without fault, the control is back in our hands, it doesn't cost any additional time, and there's a big line item off the expense sheet."
Eric Seitz,
Purchasing & Supply Technician,
Central Services, Missoula County
Free consultation? Quick question?
Either way, we're happy to help!