MUTOH ValueJet 1638UR Mark II
The MUTOH XpertJet 661 UF Printer is designed for professionals.
Talk to an Expert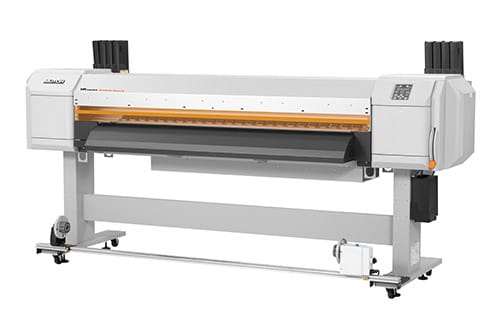 The ValueJet 1638UR Mark II UV-LED printer represents the next generation of UV-LED printers and is ideally-suited for the production of high-quality graphics.
Automatic media cutter
Replaceable print wiper
Staggered dual print heads
Economy 66lb take-up system
The ValueJet 16538UR is powered by MUTOH's new genuine VerteLith™ RIP software and bundled with FlexiDESIGNER MUTOH Edition 21. VerteLith RIP optimizes all of the capabilities the VJ-1638UR Mark II has to offer and produces the best-possible gradients, skin tones and vivid colors.
Features of the ValueJet 1638UR Mark II include staggered dual print heads with UV-LED lamps on both sides for greater productivity, multi-layer print capability and UV-LED ink that cures instantly – no outgassing needed. MUTOH flexible type US11 ink is ideal for applications using roll media. White and Varnish inks enable printing on transparent media and colored materials.
MUTOH's genuine VerteLith RIP software bundled with FlexiDESIGNER MUTOH Edition 21 optimizes the VJ-1638UR Mark II through these key features:
Auto-generation of named Pantone coated/uncoated spot colors.
MUTOH Clear Tone half tone technology.
MUTOH CMYK wide color gamut ICC profile.
Automated layout processing and printing.
"What-you-see-is-what-you-get" RIP preview.
FlexiDESIGNER MUTOH Edition 21.
Soft proof.
Printing layers with auto-generation of spot colors/white/varnish.
Automated multi-layer printing.
Tab customization.
Color management function.
Finishing bleed processing function.
Printing log function.
Optional features:
Professional 88lb take-up system.
Heavy-duty 220lb take-up system.
"Kelley Connect looked at our situation and said we could do better and save money. Now we can process mail every day without fault, the control is back in our hands, it doesn't cost any additional time, and there's a big line item off the expense sheet."
Eric Seitz,
Purchasing & Supply Technician,
Central Services, Missoula County
Free consultation? Quick question?
Either way, we're happy to help!