HP DesignJet Z9
Professional photo prints, fast and simple.
More quality with fewer inks.
Talk to an Expert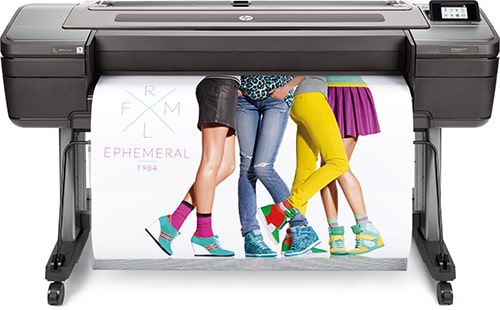 Professional photo prints, fast and simple. More quality with fewer inks.
Spend less time on media changes and adjustments with dual roll support and automatic roll switching.[3]
Deliver photo-quality prints 2.5 times faster[1] without losing quality.
Simplify your workflow with new tools in the HP Applications Center.[3]
AMAZING
Deliver high quality with confidence
Impress the most demanding customers with smooth transitions and sharp details thanks to HP Pixel Control.
No need for light inks using new high-definition HP printheads with dual drop technology.
Achieve expanded gamut with RGB HP Vivid Photo Inks and the embedded spectrophotometer.[1]
Get superior gloss uniformity by upgrading your printer to include HP Gloss Enhancer.[2]
SIMPLE
New tools for you and your customers
Easily design applications from posters to banners and canvas with the HP Applications Center.[5]
No disruption to your workflow, keep using your current RIPs, validated with HP RIP certification program.[6]
Get remote visibility and control to better manage your print production environment with HP PrintOS.
Enjoy one-click printing that also helps reduce media waste using HP Click printing software.[7]
"Kelley Connect looked at our situation and said we could do better and save money. Now we can process mail every day without fault, the control is back in our hands, it doesn't cost any additional time, and there's a big line item off the expense sheet."
Eric Seitz,
Purchasing & Supply Technician,
Central Services, Missoula County
Free consultation? Quick question?
Either way, we're happy to help!
HP DesignJet Z9 44-in Printer Footnotes
[1] Embedded in the HP DesignJet Z9+ Printer series is an i1 spectrophotometer from X-Rite. Close collaboration between HP and X-Rite ensures a reliable solution that's been thoroughly tested to meet customer demands for ease, quality, and dependability.
[2] Based on internal HP testing, comparing to HP DesignJet Z9+ series printers without gloss enhancer. HP Gloss Enhancer can be used on photo paper, with the exception of matte-finish papers.
[3] Vertical trimmer and dual rolls included with the HP DesignJet Z9+dr 44-in PostScript® Printer with V-Trimmer only. Up to 20% reduction in post-processing labor time based on internal HP testing compared to HP DesignJet Z9+dr series printers without built-in vertical trimmer.
[4] Based on internal HP testing. Up to 2.5 times faster printing compared to the HP DesignJet Z3200 Photo Printer series. May vary depending on print mode and media type.
[5] Requires an HP Applications Center account, Internet connection, and connected Internet-capable device. For more information, see http://www.hpapplicationscenter.com
[6] For a list of HP certified RIPs, visit: http://www8.hp.com/us/en/large-format-printers/designjet-printers/zseries-rips.html
[7] Once image is selected, one-click printing when printing the entire file without any modifications to the print settings. Applicable to PDF, JPEG, TIFF, and HP-GL/2 files.
© Copyright HP Development Company, L.P. – The information contained herein is subject to change without notice. HP shall not be liable for technical or editorial errors or omissions contained herein.