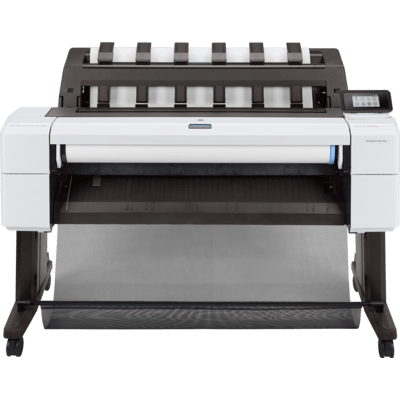 Meet deadlines with the fastest print speed in the most compact, quiet printer.[
2]
Keep the project momentum. With radically simple solutions and the easiest PDF printing[1], it's easy for everyone to get great results every time.
Support the work of your teams and their projects, and accelerate progress at every stage.
Experience unprecedented simplicity, and the easiest PDF printing.[1]
Stay in control with the world's most secure large-format printer.[4]
SECURE
World's most secure large-format printer[5]
Rely on the best network protection with features like HP Secure Boot and whitelisting.[5]
Control who accesses the printer and its confidential documents with secure user authentication.
Keep your fleet secure at any time with HP JetAdvantage Security Manager.
UNLEASH PERFORMANCE
To turn design into delivery
Showcase design versatility from precise line drafts to boldly colored 3D renders, with HP Bright Office Inks.
Provide the highest accuracy and display the nest details with the unique Adobe PDF Print Engine.[3]
Meet deadlines with the fastest speed up to 180 D/hr2, and dual roll option.[4]
EXPERIENCE SIMPLICITY
At the high-end
Adopt a smart work style with easy PDF printing using HP Click software. [1]
Empower your workforce. Easily print and share jobs from the cloud with your mobile device and HP Smart app.
Fits your workplace with the most compact footprint and most quiet operation, with up to 87% less noise.[2]
"Kelley Connect looked at our situation and said we could do better and save money. Now we can process mail every day without fault, the control is back in our hands, it doesn't cost any additional time, and there's a big line item off the expense sheet."
Eric Seitz,
Purchasing & Supply Technician,
Central Services, Missoula County
Free consultation? Quick question?
Either way, we're happy to help!
HP DesignJet T1600 Footnotes
[1] Compared to Canon Direct Print & Share and based on "One Click Print." Once image is selected, one-click printing when printing the entire file without any modifications to the print settings. Applicable to PDF, JPEG, TIFF, DWF, HP-GL/2 files.
[2] Based on comparable large-format inkjet printers under $12,000 (USD) as of December, 2018. IDC figures show that Canon, Epson, and HP combine for 98% share of this printing category worldwide as of Q3, 2018. Fastest print speed based on sustained printing speeds. Most compact footprint calculated using all devices in "Operation mode" with an Open Basket and the arm of the Screen (front panel) spread out to enable user interaction. Most quiet according to internal HP testing of sound pressure level during operating mode (plain paper, line drawing, Normal mode) compared to published specification of competitive printers. Percentage calculations of noise based on lineal units vs. Canon TX-3000 published spec of 51dB(A).
[3] Requires purchase of the HP DesignJet T1600 PostScript® models or optional HP DesignJet PostScript/PDF Upgrade Kit. Highest accuracy and finest details compared to printers without the embedded Adobe technology excluding RIP users, and based on internal HP testing with PDF files containing special fonts, PANTONE® colors, smooth shading, overprint, and transparencies that can only be reproduced using the Adobe PDF Print Engine. The Adobe PDF Print Engine (APPE) is Adobe's high speed, high fidelity print platform. To learn more, visit http://www.adobe.com/products/pdfprintengine.
[4] Advanced embedded security features are based on HP review of 2019 published embedded security features of competitive printers, as of February 2019.