Hotel Website Design – Best Practice and Design Examples
According to The Neilson Norman Group, the first 10 seconds a visitor is on a site are critical. If in that time period, the visitor isn't convinced they simply leave the page. If you're worried that your site might not be converting visitors that quickly, you should know that Statistics Brain estimates 65% of online hotel booking happens on the brand's website.
You have 10 seconds to sell someone on your hotel. Can you do it?
If you aren't converting visitors into guests, a new website design might be the way to make sure your rooms are full every night. Here are some components of winning hotel sites.
Clear reservation button
Clear phone number and contact info
Clear address with embedded map or link to Google Maps (or both)
Quality photos of exterior and interior
Responsive design (tablet and mobile friendly)
Make Reserving Easy
The reservation button should stand out as the call to action. It should be in the same spot on each page. A link to reservations should be in the navigation too.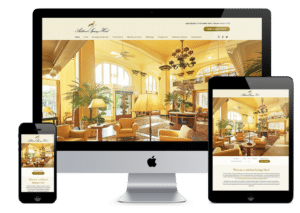 Website visitors should have multiple ways to easily transition from browsing the website to booking online. At the very least, there should be an online form for the user to fill out to request a reservation. Make sure the reservation page isn't the only easy way to contact you though, your phone number should also be visible to your visitors on every page.
Tailor to Your Online Visitors
Your website needs to be responsive for ease of use and search engine rankings. Responsive websites are sites which work on any device or window size.  (Try changing the size of the window you are using on our site to see how it works).
Google recommends responsive sites as a best practice, meaning a responsive site will help to boost your organic search engine rankings… making it easier for someone searching for a website to find you. Plus, because 65% of same-day hotel reservations are made on a smartphone, you need to make it easy for the customer to book with you while on the go.
Show Off a Little
As we talked about earlier, you must clearly communicate your value proposition within 10 seconds. Your home page should have large, high quality pictures. These photos should give the visitor an idea of how your hotel actually looks while showing off its best assets. Show off all parts of your hotel people might find interesting – the exterior, lobby, restaurants, ballrooms, pools, and don't forget room interiors.
Your site will need information about your hotel's rooms as well as any packages or specials you might offer. Give the visitor a "tour" of each type of room you offer; start with a photo, list the bed type, room dimensions, and the amenities, which come with each type of room. Guests want to know what their stay will be like before they arrive so they can feel confident in their decision.
A successful new hotel website has a lot of components which help to convert web visitors into hotel guests. Check out some of the hotel websites we've designed including Ashland Springs Hotel, Inn at the Commons, and Ashland Hills Hotels and Suites, to name a few.

SEO for Hotels
Once you've created a beautiful and effective website for your hotel, you'll need to get traffic and visitors to it.
One of the greatest advantages to having a nice website is that once you start getting organic search traffic to land on your site you can expect to see reservations come in. When someone searches for a hotel in your city your site has the potential to come up in the search engines. Not only does this type of traffic convert very well, it is not traffic that you have to pay to get like you would in an ad.
We highly recommend that you design your website from the start with this in mind. There are some very key aspects that often get overlooked.
We have more than 10 years of experience in creating websites and optimizing them for conversions and ranking.  If you would like to talk to us about your site, please give us a call at 541.858.4288, send us an email or request a free quote.