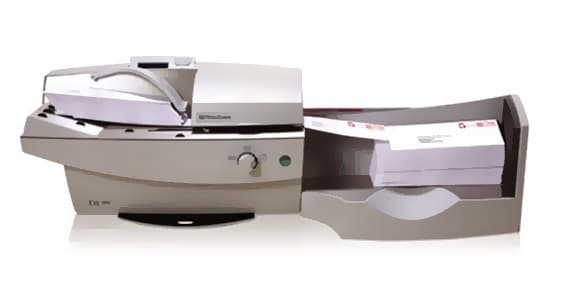 This compact design allows for automatic feeding of a wide range of mail pieces.
The DL200 letter opener is capable of automatically opening up to 250 letters per minute.
For organizations with moderate incoming mail volume the DL200 vastly improves the speed of processing. It opens envelopes automatically handling mail pieces of varying dimensions and thickness while ensuring the safety of the operator with its shielded cutting mechanism. Some of the benefits:
Processes up to 250 envelopes per minute
The cutting device is housed internally so you and your employees are safe and protected.
The paper waste is neatly stored in an easily accessible waste area.
Adjustable cutter gives you the flexibility to choose the depth that you want your envelopes to be opened – helping to protect the contents.
The counter can be reset to track the number of pieces each time you process mail.
Free consultation? Quick question?
Either way, we're happy to help!
"Kelley Connect has done a great job supporting my business. From technology recommendations to local service and support, I can rely on them!"
Jeremy Moritz, Executive Director
Eugene Builders Exchange
"As a full-service print shop, up-time is critical to our business. The Kelley service team is top-notch, going above and beyond to keep our equipment running and customers happy. Plus, we really appreciate Kelley's consultative &, transparent selling style. Their recommendations have helped us expand our wide format business, supporting more customer applications."
Erica Campbell CL Printing & Copy Center
Redmond, OR
"Kelley Connect changed our lives! We needed a machine to keep up with our busy commercial construction business and Kelley's equipment recommendations were spot-on. Plus, they showed me so many tips and tricks to get the most out of the HP Pagewide XL printer. The team keeps us up and running with an awesome service team and next-day media delivery so our business doesn't skip a beat." "My advice for anyone in the wide format market…. upgrade now! You won't regret the speed and capability. It seriously is a game-changer."
Mel Donner, Sr. Project Engineer
Joseph Hughes Construction, Portland, OR
"Kelley Connect has done a great job supporting my business. From technology recommendations to local service and support, I can rely on them!"
Jeremy Moritz, Executive Director, Eugene Builders Exchange