Digital Production Systems
Unmatched Quality & Efficiency for High-Volume Printing & Finishing
Talk to an Expert
Digital press and production printer models provide high-quality color printing, enabling print on demand and short runs utilizing automation and workflow solutions.
Automation
Print runs in the thousands are being replaced by smaller production runs of 300 or even a dozen. That means means more human touches, The more human touch, the greater the risk for errors and rework. Rework leads to waste and puts pressure on your margins. Now you can automate complex, yet every day, functions such as:
Color management
Registration and alignment
Clearing paper jams
Trimming and binding and
Setting up paper for optimal printing
Web to Print
Prepress automation
Media
From everyday printing to specialty media, we offer an extensive inventory of media and supplies to support your project. Delight your customers and expand your business with innovate media applications.
Workflow
Workflow Software drives production efficiency :
Increase print production efficiency with streamlined and automated workflows
Maximize print engine capacity and capability
Process more jobs more quickly, regardless of complexity
Lowes labor costs by reducing touch points
Offer new higher-profit, value-added services
Fiery Expertise
Fiery Certified experts:
Conduct customer demos
Quickly identify ways to improve workflow improvement & maximize Fiery capabilities.
Provide supplemental operator training including "right the first time" file preparation and superior color management.
Identify and resolve issues more quickly
Enjoy direct access to EFITM Fiery support
Production Expertise & Investment
Service & Support
Downtime costs you money.
Certified Production Service Technicians throughout the Northwest to keep your business humming.
Parts & Supplies Inventory
Our investment in inventory means minimal downtime for you. Supplies are in stock and ship immediately. Parts inventory translates to keeping your machines running with little interruption.
Production Demo Centers in OR, WA & MT
Schedule a demo to see the difference with your own eyes. Print your files to experience today's workflow software, CMYK+ output and finishing options. Demo centers throughout the Northwest.
Production Specialists
KelleyConnect's Certified Production Systems Specialists and Production Systems Analysts are experienced industry veterans who understand your technical challenges, offer creative solutions and maximize the value in your production investment.
G7® is Idealliance's global industry-leading set of specifications for achieving visual similarity across all print processes. Idealliance certifies our industry's most knowledgeable experts to qualify leading providers of print, creative, and prepress services in the G7 methodology. The G7 method outlines an easy-to-follow recipe for implementing ISO printing standards and additional metrics.
A G7 Professional is typically an in-house quality/technical professional with knowledge in the field of color management, process and quality control for proofing and printing utilizing the G7 methodology. A G7 Professional has attended and successfully completed an Idealliance G7 Expert/Professional Training and exam. The G7 Professional must recertify by successfully completing the Recertification Review & Exam within 90 days of certification expiration.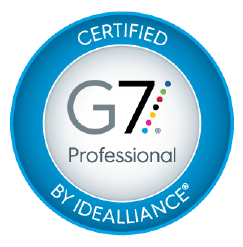 "As a full-service print shop, up-time is critical to our business. The Kelley service team is top-notch, going above and beyond to keep our equipment running and customers happy. Plus, we really appreciate Kelley's consultative &, transparent selling style. Their recommendations have helped us expand our wide format business, supporting more customer applications."
Erica Campbell,
CL Printing & Copy Center Redmond, OR
Free consultation? Quick question?
Either way, we're happy to help!