Xerox Versant 4100 Digital Press
Say hello to bigger -and better- opportunities to unlock value, earn more revenue and keep jobs in house.
Talk to an Expert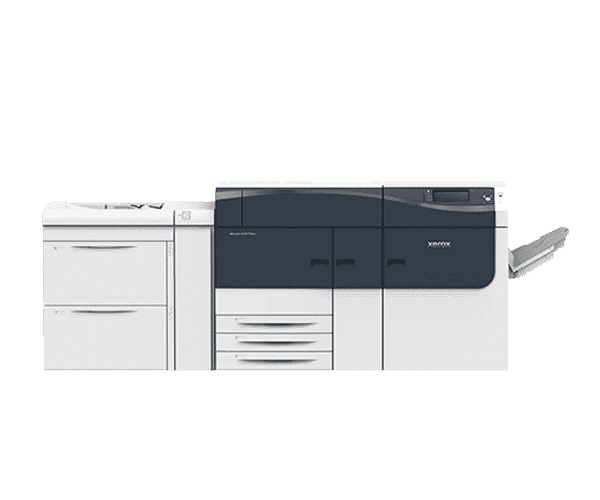 A versatile press reinvented with even more smart automation for virtually touch-free quality control
Simplify and automate time-consuming tasks like image-to-media alignment, density, uniformity, color calibration and profiling with our Full Width Array (FWA)
Print high-quality output with Xerox® EA Toner for incredible 2400 x 2400 dpi Ultra HD Resolution and 10-bit RIP rendering
Versatile feeding up to 47" / 1.2 m sheets and Finishing options for creating exactly the Versant press you need to build your business
Xerox® PredictPrint Media Manager provides powerful, cloud-based stock management
Finishing and Options
With the range of feeding and print finishing options available for your Xerox® Versant® Press, you can add the capabilities that best suit your job mix and improve your workflow. For instance, digital front ends and other customizable solutions keep more jobs in progress and increase the return on your investments.
Accurate Stock Management
The Xerox automation story has been made even greater by providing you with a way to get your print – and profit – in motion. backed by crowd-sourced cloud data and powerful artificial intelligence, Xerox® PredictPrint Media Manager Software accelerates productive and accurate stock definition and press set-up. With this unique and simple "Scan, Load and Go" workflow on the Xerox® Versant® 4100 Press, you will achieve optimal output on every print run, save time and reduce costs.
"With Kelley Connect, I can call right now, and they're here in ten minutes to help with whatever. I feel like they care."
Chris Olsen,
Owner/Operator, Minuteman Press
"They know all of the software and taught me everything I could possibly need. And if I don't know something, I can call our rep, and if he doesn't know, he'll find someone for me who does. They have gone above and beyond."
Kassie Hansen,
Digital Print Specialist, University of Portland
Make Technology Easy
Talk to a Production Print Expert!