Xerox PrimeLink C9065/C9070 Printer
Flexible, production-ready finishing and feeding with a range to fit every print environment.
Talk to an Expert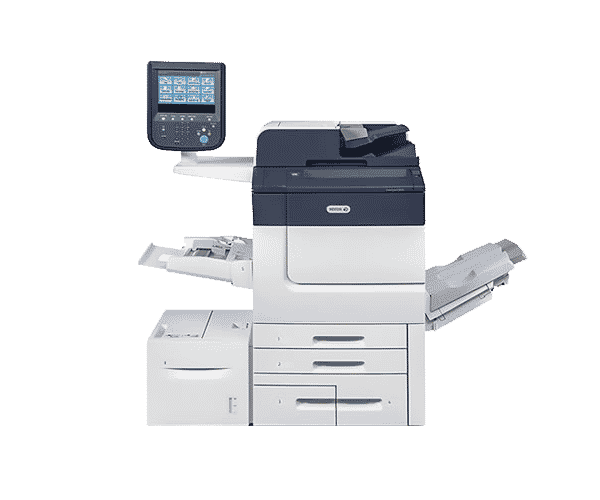 Breakthrough performance. New business results.
Color MFP with support for 13 x 26 in. (330 x 660mm) banner printing
Flexible, production-ready finishing and feeding with a range of Digital Front Ends to fit every print environment
Exceptional reliability and image quality with built-in security and workflow apps
Get noticed with Xerox® CMYK Plus Technology: Vivid and Fluorescent Specialty Toners add gold, silver, white, clear, or fluorescent cyan, fluorescent magenta and fluorescent yellow to your applications
Finishing and Options
With the range of feeding and print finishing options available for your Xerox production equipment, you can add the capabilities that best suit your job mix and improve your workflow. For instance, digital front ends and other customizable solutions keep more jobs in progress and increase the return on your investments.
State-of-the-Art Printer and Data Security
Connectivity poses the risk of cyber-intrusion, but our ConnectKey® Technology protects from threats with strict printer security and data security.
Breathing Inspiration Into Print
The Xerox® PrimeLink® C9065/C9070 Printer delivers the most adaptable capabilities on the market: Unmatched application flexibility, unsurpassed image quality, professional-grade finishing, enhanced reliability and security, plus advanced tools and automation.
Swap CMYK toners with specialty colors with the Xerox® Adaptive CMYK Plus Kit. Print traditional digital applications with CMYK. Swap out toners for the Xerox® Vivid Specialty Toner set to run exciting new applications with shimmering metallics, white, and clear. Or swap for the Xerox® Fluorescent Specialty Toner set to create eyestoppingly colorful prints that glow under UV light.
"With Kelley Connect, I can call right now, and they're here in ten minutes to help with whatever. I feel like they care."
Chris Olsen,
Owner/Operator, Minuteman Press
"They know all of the software and taught me everything I could possibly need. And if I don't know something, I can call our rep, and if he doesn't know, he'll find someone for me who does. They have gone above and beyond."
Kassie Hansen,
Digital Print Specialist, University of Portland
Make Technology Easy
Talk to a Production Print Expert!