RICOH Pro C7200X
Grow your business with a game-changing digital press, and experience performance that goes beyond speed.
Talk to an Expert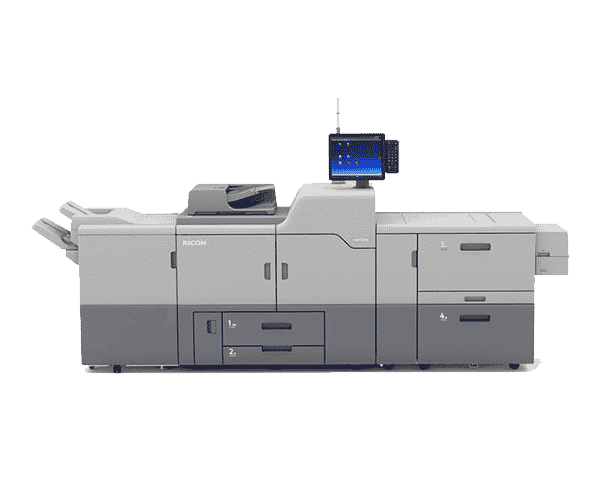 Reach your productivity and profitability goals
Earn customer loyalty and build new revenue streams with superb image quality, an amazing color array and exceptional media flexibility.
Improve operational efficiency and increase production capacity. • Sustain throughput with a system that's easy to operate.
Lower total cost of print by finishing jobs in-house.
Grow confidently with the right technology, vendor partner, complementary software and services, and nationwide support.
Capitalize on the value-add opportunities offered by extraordinary media flexibility
Using a RICOH Pro C7200 Series digital press, you can make creative breakthroughs and discover endless ways to show your customers how the "medium is the message." The Vacuum Feed Oversize Sheet Option and the Multi-Bypass Tray Oversize Sheet Option simplify media handling and printing of oversized materials — up to 27.5" in duplex mode and up to 49" in simplex mode (from Bypass Tray Oversize Sheet Option only). Explore the possibilities of textured, synthetic, magnetic, metallic and clear media for applications, including trifold brochures, posters, packaging and more. The AC Transfer technology and elastic fusing belt is designed to maintain consistent quality, especially on textured media. Print on substrates up to 360 gsm, both simplex and duplex.
Develop new revenue streams based on fifth color capabilities
Expansive color possibilities can generate incremental revenue resulting from new applications. With the RICOH Pro C7210X and RICOH Pro C7210SX, you can develop project concepts centered on the 5th Color Station, which produces a remarkable spectrum of custom colors and special effects. The clear, white, neon yellow, neon pink and invisible red toners are catalysts for creativity. Use clear to add a watermark or accentuate a graphic design. The 5th Color Station position is swappable for purposes of applying white toner as an undercoat in one pass on colored or metallic substrates, thereby maintaining superb quality and eliminating the need for multi-pass printing. Invisible red toner allows you to expand into entry level security applications such as secure ticket printing. Both neon yellow and neon pink let you go beyond CMYK by blending with other process shades to create neon palettes.
Sustain throughput because operators of varying skill levels can excel at producing simple and complex jobs
Minimize guesswork and mistakes that can lead to expensive delays and rework. Operators can customize the display of the new 17" Touch Panel based on visual guidance and programmable shortcut icons. The new Auto Calibration System generates a density change parameter and register for each type of media, thereby automating critical elements of color consistency. The new Inline Auto Registration feature prints and reads crop marks, then makes adjustment if they are needed. With support for expansive paper weights and types, the Media Library lets operators select the desired paper easily. Using the new Media Management Tool, operators can set up the media catalog from a PC and use it with multiple RICOH Pro C7200 Series printers.
"With Kelley Connect, I can call right now, and they're here in ten minutes to help with whatever. I feel like they care."
Chris Olsen,
Owner/Operator, Minuteman Press
"They know all of the software and taught me everything I could possibly need. And if I don't know something, I can call our rep, and if he doesn't know, he'll find someone for me who does. They have gone above and beyond."
Kassie Hansen,
Digital Print Specialist, University of Portland
Make Technology Easy
Talk to a Production Print Expert!