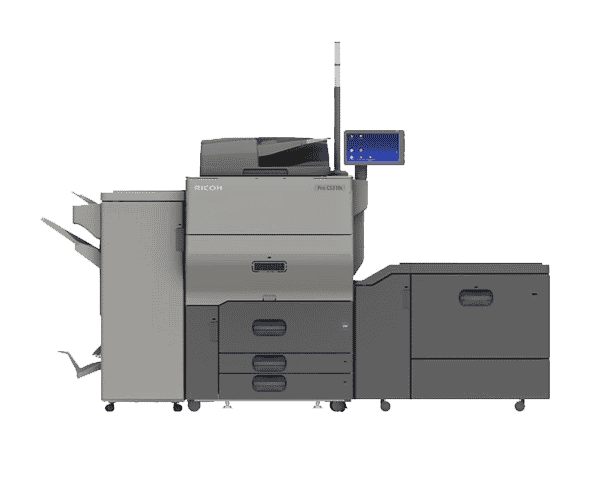 Achieve your productivity and profit goals… productivity meets affordability.
Built as a right-sized solution, the RICOH Pro C5300s/C5310s offer a fusion of vibrant color, agile media handling and a wide range of finishing options. With superior reliability, accurate registration and intuitive controls, they are ideal for marketing agencies, in-plants, commercial printers and franchise/pay for print environments looking for a total package — in a compact footprint.
From oversized sheet options that allow you to create six-panel brochures to superior color consistency on textured stocks, the Pro C5300s/C5310s are built for print shops of all sizes. Confidently offload work from higher-volume systems or take on more specialty jobs to expand your base.
The Pro C5300s/C5310s reproduce true-to-life images with exceptional color and impeccable detail. These dynamic space-saving systems feature the same powerful imaging technology that drives our higher-volume, award-winning digital production presses. Deliver the premium look your clients demand without sacrificing valuable floorspace.
Robust finishing presents a true end-to-end solution
Keep finishing work in-house and deliver even more value to your clients. The Pro C5300s/C5310s bring a versatile range of professional choices, including a multi-fold unit for interesting brochures, direct mail and booklet finishers for bound document production. With Ricoh's extensive network of partners, it has never been easier to automate and output finished work quickly, professionally and affordably.
The power to help your business do more
Gain a competitive edge with features that reduce labor intensive set-up, minimize wasted output and achieve repeatable results that exceed customers' expectations. Streamline steps with a new 10" Smart Operation Panel and choose from powerful controller options to best manage your workflow.
"With Kelley Connect, I can call right now, and they're here in ten minutes to help with whatever. I feel like they care."
Chris Olsen,
Owner/Operator, Minuteman Press
"They know all of the software and taught me everything I could possibly need. And if I don't know something, I can call our rep, and if he doesn't know, he'll find someone for me who does. They have gone above and beyond."
Kassie Hansen,
Digital Print Specialist, University of Portland
Make Technology Easy
Talk to a Production Print Expert!