Canon VarioPrint i-series+
Redefining inkjet innovation for productivity, versatility, and savings
Talk to an Expert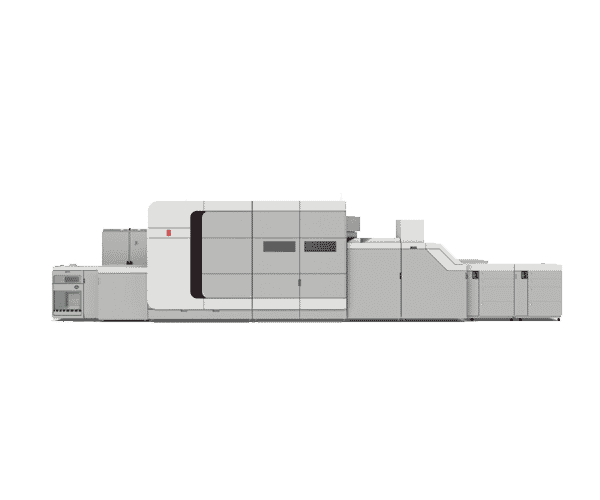 Proven Océ inkjet technology combined with Océ VarioPrint flexibility.
Today's print market is evolving rapidly and print providers need to keep pace. The confluence of technology advances, changing markets, and business requirements place ever- greater pressure on being able to respond to changes in the market, and better serve the needs of customers.
The Océ VarioPrint® i-series+ sheetfed inkjet press is the solution. It bridges the gap between the application flexibility and efficiency of sheetfed presses and the economy and productivity of web-fed systems, without compromising quality. iQuariusTM technologies, a breakthrough in sheetfed versatility and inkjet productivity, enable print providers to handle new and more diverse applications—and to do so profitably.
Enjoy peak productivity
The VarioPrint i-series+ digital color press prints up to 294 letter images per minute and the i200 digital color press prints up to 194 letter images per minute, or more than 8,200 / 5,820 duplex letter sheets per hour. It targets heavy production volumes of 1-10 million pages per month and supports a large variety of paper sizes up to 13.9″ x 19.7″ (B3) format. Up to 12 paper trays feed a broad range of standard offset and inkjet substrates from 16 lb. bond to 110 lb. cover. Proven VarioPrint 6000+ input and output technologies help enable a white-sheet-in, finished-application-out workflow required to meet the demands of today's shorter run, fast turnaround print market place. Reliable high-speed sheet-fed inkjet production is powered by iQuarius technologies, a range of innovations that allow for robust, high quality prints on sheets of paper, at high speed.
Maximizing uptime
Uptime is crucial to meet today's demanding SLAs. For VarioPrint i-series+, uptime is enhanced by automated maintenance routines which help secure uninterrupted production; simultaneously helping maintain print quality, productivity and uptime. Engineered with "Sense and Support" maintenance, the VarioPrint i-series+ helps minimize unplanned service activities and optimize planned maintenance.
Drive Press efficiency
The scalable, high performance PRISMAsync controller allows users to plan jobs ahead of time and provide adequate information to help keep the machine running without unplanned stops.
"With Kelley Connect, I can call right now, and they're here in ten minutes to help with whatever. I feel like they care."
Chris Olsen,
Owner/Operator, Minuteman Press
"They know all of the software and taught me everything I could possibly need. And if I don't know something, I can call our rep, and if he doesn't know, he'll find someone for me who does. They have gone above and beyond."
Kassie Hansen,
Digital Print Specialist, University of Portland
Make Technology Easy
Talk to a Production Print Expert!