Canon imagePRESS C10010VP / C9010VP
Engineered for Your Demanding Production Environment
Talk to an Expert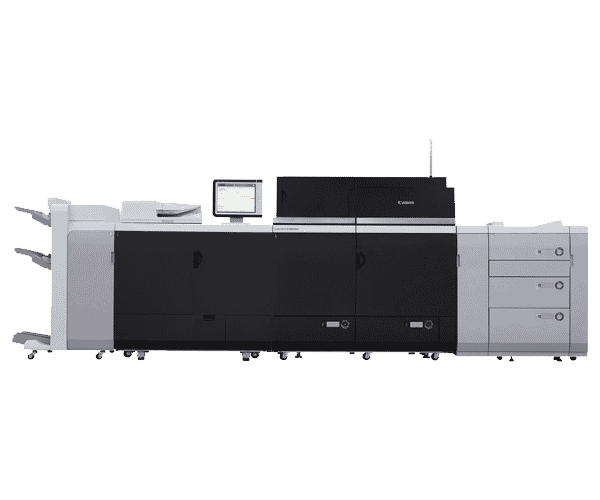 The Canon imagePRESS V1000 digital press… where performance meets possibility.
BUILT TO PERFORM
As print providers know, there's more to productivity than mere speed. The entire press must integrate multiple technologies that are designed to deliver reliable performance. It's this integration that helps differentiate the imagePRESS C10010VP Series in the market and makes it a high-productivity performer for production print providers.
MINIMIZE DOWNTIME
Keeping the press running and producing jobs is a top priority, even when your operators are occupied with numerous responsibilities. The Vacuum Feed and Air Separation help to ensure your stocks are reliably fed into the press. The Ultrasonic Multi Sheet Detection automatically diverts these jam-prone sheets to a top escape tray, without stopping the press or requiring operator attention.4
COMPLEX JOBS ARE NO PROBLEM
The imagePRESS C10010VP Series delivers superb throughput without having to sacrifice image quality. Thanks to the distinct Dual Fixing Technology, jobs that require coated and heavier weight stocks, including complex mixed weight jobs, can still run at high speeds. This helps operators with their tight deadlines and to get more out the door.
TIGHT AND CONSISTENT REGISTRATION
Registration plays a critical role in print quality. It can also impact productivity if operators need to spend time making adjustments or reprinting jobs due to related issues. The imagePRESS C10010VP Series' Active Registration System mimics a sheet- fed press by utilizing a steel side plate to help correct any potential snags with image timing, skewing, or positioning. When fine adjustments are required, operators can control individual corners for each media. Together, these features provide tight and consistent registration that helps produce "first- time-right" output and reduced misprints.
Amazing Quality
In-Line Spectrophotometric Sensors provide automatic color calibration, media profiling, and profile verification.
Multi D.A.T. helps to maintain consistent color across long runs automatically.
The flexible Advanced Image Transfer Belt and Simple Transfer Adjustment combine to help produce brilliant solids.
Outstanding Productivity
Dual Fixing Technology helps maintain high productivity even on complex jobs.
Ultrasonic Multisheet Detection and automatic sheet purging to an escape tray helps keep the press running.
Wide range of productive, in-line feeding and finishing options for white-paper-in, and finished-product-out.
Up to eight different paper sources with an 11,000-sheet paper feed capacity enables long, unattended print jobs.
Brilliant Versatility
Supports stocks up to 150 lb. Cover and various specialty medias including synthetics.
Diversify your application offerings by printing on stocks up to 51.2" in length.
A choice of powerful, digital front-ends, including Canon's PRISMAsync Print Server and Fiery powered imagePRESS Servers, help deliver high performance.
"With Kelley Connect, I can call right now, and they're here in ten minutes to help with whatever. I feel like they care."
Chris Olsen,
Owner/Operator, Minuteman Press
"They know all of the software and taught me everything I could possibly need. And if I don't know something, I can call our rep, and if he doesn't know, he'll find someone for me who does. They have gone above and beyond."
Kassie Hansen,
Digital Print Specialist, University of Portland
Make Technology Easy
Talk to a Production Print Expert!