Custom Website Design
Your website should line up with your business' goals and it should have the ability to adapt to your company's future growth. Having a strong online presence in your market is crucial to the success of your business' growth. We will tailor the content management system (WordPress) to fit your needs, and help you reach the markets that you want to grasp. Through a professional custom web design, your preferred choice of color combinations, content, layouts, and templates will be used to project your company's unique image and brand, and help you stand out from the crowd. Kelley Connect will be there every step of the way to ensure we are creating exactly what you are looking for.
Responsive
At Kelley Connect, we don't just concentrate our efforts on making your website look great, we also make sure it is responsive to any device and is easy-to-use, which will lead to a better experience for all your users. A mobile friendly website will attract more visitors, give you higher rankings, and ultimately increase your revenue.
Screenshot of a responsive website of a Rogue Valley electrician, All Current Electric, Inc.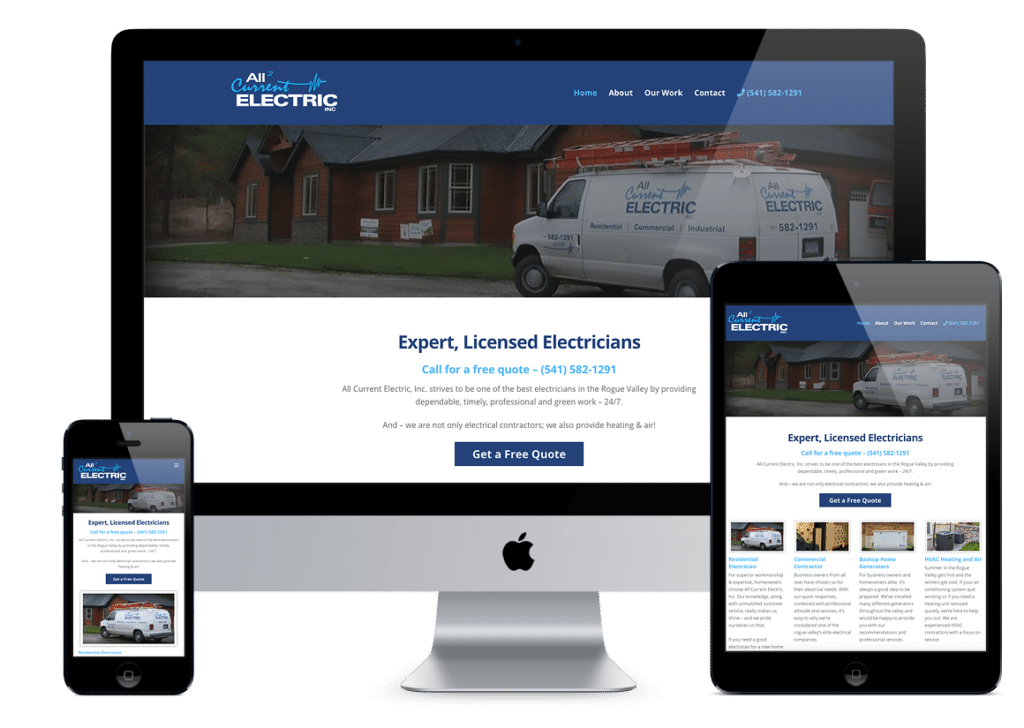 Click here to read more about responsive website design.
SEO
Your custom web design and site will be optimized for search engine optimization (SEO). We concentrate on keyword research, technical infrastructure, and content, both on your page and in your code, while using Page Analysis, RSS Optimization, XML Sitemaps, Breadcrumbs, and other SEO Plugin Tools to enhance your site.
Click here to read more about our SEO services.
Your website speaks to your company's professionalism and the quality of your products or services. Our goal is to help you make a great impression on your potential customers by creating a professional and stylish website that will capture, engage, and immerse visitors with your brand. If you would like to learn more about our past website projects or have a question about our custom website design services, we'd love to speak with you!