Content Management System (CMS)
Most of the websites we create are through WordPress, an open source Content Management System (CMS) with a license free platform, which enables quick and easy management of your site that you can do without the need of a tech-savvy person.
Through this CMS, you are able to add, edit or delete content and images. The admin area is accessible online from your computer, and through it you can also create new pages instantly while preserving your main design and layout. WordPress even allows access to previous page versions in case an error is made.
Below is what the "WYSIWIG" looks like. As you can see you can add images, links, bulleted lists and much more.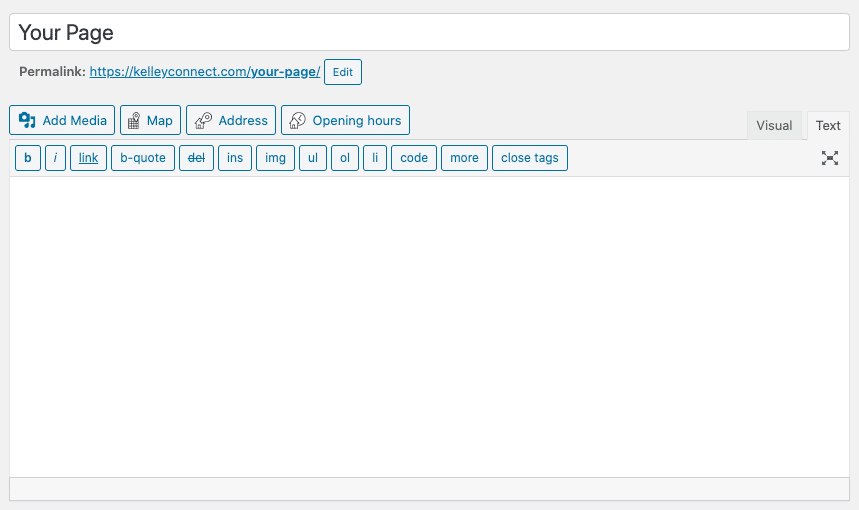 WordPress works on iOS and Android systems to improve your company's mobility and ensures that even when you're on the road you can still manage your site.
WordPress also makes it easy to retrieve site statistics through integrating Google Analytics and Webmaster Tools in order to track your Return On Investment (ROI). This can help you monitor your site's traffic, sources, and measure conversions. If you keep track of statistics like page views, bounce rate, average time spent on the page, and even page value, you'll be able to see how certain pieces of content can effect the visitors on your website. We can help you set this up and get you started.
Forms are simple through WordPress; it has the capability to handle multiple forms at any time.
Request for proposals, or other inquiries, can conveniently be emailed to different or multiple addresses. Opt in check boxes can be used for your growing your customer database, and all website inquiries are recorded through a downloadable database for conversion analysis.
WordPress is a full CMS system that will give you the power to manage your own site. We will provide you with the expertise and guidance to help you create a site that stays aligned with your vision and business goals.