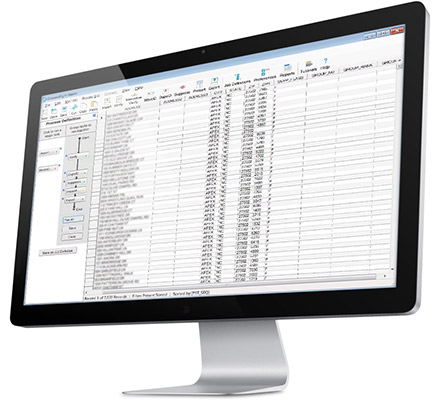 Improve delivery through address correction.
Whether you're sending transactional or direct mail, packages or flats, getting your customer addresses correct is critical in getting your message into the right hands. Our address cleansing software integrates cutting-edge data validation capabilities in one simple, intuitive application.
Managing addresses can be simple.
The best time to correct mistakes is before they happen. With ConnectRight Mailer Basic, you can quickly and easily fix your addresses before you send your mail and packages. The application uses the latest web technology, making it simple to install and use right away. Processing your lists is simple with the job templates feature that gives you more time to focus on your business. By using ConnectRight Mailer Basic, you will:
Save money by reducing undeliverable mail and carrier address correction fees
Improve payment collections and cash flow by ensuring bills get delivered
Eliminate uncertainty of faulty address data
Make sure your customers feel appreciated
Avoid leading your customers to feel like "just a number" because of duplicate or inaccurate mail. ConnectRight Mailer Basic helps you manage data integrity and accuracy through advanced duplicate and list management services. You'll keep your customers happy and save time and money at the same time.
Sending packages doesn't have to be expensive.
Having accurate address data for sending your packages is important, too. ConnectRight Mailer Basic helps you avoid costly address correction fees by correcting address errors before you send.
Improve ROI by improving data.
Your undelivered mail or mail delivered to the wrong person results in avoidable costs and lost opportunities. You have a lot invested in creating the perfect communication pieces. Don't lose your work because of poor data. Instead, look to improve your data simply and effectively.
Stay ahead of change.
Street names and addresses change, too. ConnectRight Mailer Basic flags these changes seamlessly and automatically. ConnectRight Mailer Basic determines if address conversion is required and then returns any converted address in a standardized, clean format. You can mail with confidence, knowing you have the latest USPS® information.
Data Quality Features
Verify – CASS Certified™ for address correction
Includes DPV®, LACSLink®
Adds missing postal data, ZIP + 4®, and eLOT®
DupeID – Manage Duplicates
Record Filtering
List Suppression
Free consultation? Quick question?
Either way, we're happy to help!
"Kelley Connect has done a great job supporting my business. From technology recommendations to local service and support, I can rely on them!"
Jeremy Moritz, Executive Director
Eugene Builders Exchange
"As a full-service print shop, up-time is critical to our business. The Kelley service team is top-notch, going above and beyond to keep our equipment running and customers happy. Plus, we really appreciate Kelley's consultative &, transparent selling style. Their recommendations have helped us expand our wide format business, supporting more customer applications."
Erica Campbell CL Printing & Copy Center
Redmond, OR
"Kelley Connect changed our lives! We needed a machine to keep up with our busy commercial construction business and Kelley's equipment recommendations were spot-on. Plus, they showed me so many tips and tricks to get the most out of the HP Pagewide XL printer. The team keeps us up and running with an awesome service team and next-day media delivery so our business doesn't skip a beat." "My advice for anyone in the wide format market…. upgrade now! You won't regret the speed and capability. It seriously is a game-changer."
Mel Donner, Sr. Project Engineer
Joseph Hughes Construction, Portland, OR
"Kelley Connect has done a great job supporting my business. From technology recommendations to local service and support, I can rely on them!"
Jeremy Moritz, Executive Director, Eugene Builders Exchange